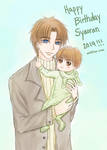 Baby Syaoran and His Father by wishluv on DeviantArt
Poor Syaoran's been stuck in his birthday for over a year now. I was meaning to update the whole Hong Kong arc by July 13, but when will I ever learn that is just my hubris? I'm still aiming for a release pretty soon, but I'm working late hours all of this month unfortunately. Sorry to keep you all waiting for so long! I really miss being able to post updates as well. If I have a secret confession to make, sometimes, I actually like stepping away from writing New Trials just long enough to have forgotten some of the details and have fun rereading it with a "fresh" take. I know, it's silly, but it all comes down to the fact that I first started writing this fanfic for self-gratification and got greedier and dared desire a readership as awesome as all of you. Just wanted to reassure you all that my passion for CCS and New Trials is greater than ever! I also have an Instagram account mostly focusing on NT fanart and CCS merchandise for now but likely to expand in the future.
I was sketching an sexy, smouldering Syaoran when I suddenly found that I had doodled Ryuuren holding a baby Syaoran. There are many fanarts with a young Sakura and Nadeshiko, but you don't really see any with Syaoran and his father. I sketched and roughly colored this fanart in around two hours. I sometimes worry that there is really not much difference in my thoughtless doodles such as this and artwork that I spend weeks or months working on such as the Dragon Syaoran piece. I love seeing a masculine-looking man carrying something frail and like a baby. Ryuuren is a bishounen sort though he has the heart of a weary old warrior.
I love all my original characters and whomever I am focusing or featuring on at the moment usually can be called my favorite, but if I had to pick an overarching favorite, it just might be Li Ryuuren (sorry Kai!). Probably because Ryuuren's been with me the longest as well, and I have sort of watched over his growth as a teenage boy to adulthood and death, in a sense. I have a feeling Syaoran would have fought with Ryuuren a lot had Ryuuren lived since both of them are so hot-headed and stubborn. Ryuuren was a lot more cynical and poison-tongued than Syaoran as a teen, since Ryuuren grew up under fierce competition with his older brothers who tried to undermine him and degrade him every moment they got (especially Li Wutai). I contrast, Syaoran, while his mother was strict on him, grew under four doting older sisters who wanted to pamper him very badly--but he would have none of it. I think I have a soft spot for Ryuuren because of how flawed he was, how doomed his love for Nadeshiko was, and what a horrible husband and father he ended up becoming.
Music Spotlight - amazarashi - "Karappo no Sora ni Tsubusareru"
If I had to pick the band I've been most obsessed with over the past couple months, it would be amazarashi. They might be initially best known for writing Mika Nakashima's "Boku ga Shinou to Omotta no wa" single but their discography is amazing in a haunting way and their lyrics are also dark yet with an uplifting message mixed in somewhere oftentimes.
"Karappo" is a song probably better befitting Syaoran during his birthday the previous year in Hong Kong circa beginning of Arc 4. Sorry for a depressing song, Syao-chan. For this year, I also included "Sakura" below. Well, it's not that much cheerier, actually. But isn't it absolutely beautiful, especially the end "
Sakura sakura ima demo sakura saku kienai?" The cherry blossom is such a lucky flower to have so many wonderful songs paying tribute to it.